Live
There have been three official Digital Vomit live shows so far, in England, Ireland and Japan.
---
Part 1: 21st April 2007
The Cambridge Arms, Colchester, England
Scorpio Scorpio
Solypsis
Cats Against The Bomb
Big In Albania
Mixomatosis
The Fez!*
with special non-DigiVom guests:
ZEROPOINTENERGY
Mick The Hippy's Ostensibly Krautrock Disco**
* Didn't play due to broken laptop.
** Played no Krautrock due to lack of turntables; played an Orbital album instead.
ZEROPOINTENERGY:

Mixomatosis:


Big In Albania:


Hooray: (as played by the DJ)

Cats Against The Bomb:


---
Part 2: 4th October 2008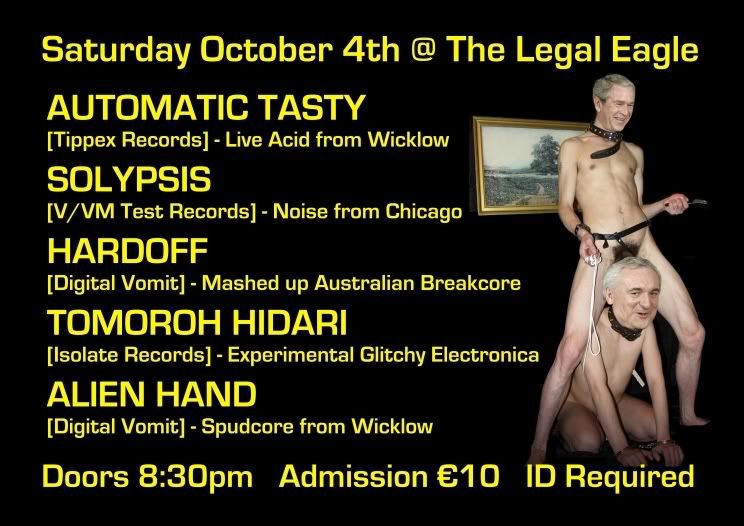 The Legal Eagle, Dublin, Ireland
Automatic Tasty
Solypsis
Hardoff
Tomoroh Hidari
Alien Hand
Automatic Tasty:
Live recording
Solypsis:

Hardoff:

Part 3 - Osaka, Japan
---
Future events
There are no future Digital Vomit events planned, however if you'd like to organise one, simply get a few of your local DigiVom acts together in the same place at the same time and get them to make some noise. And plug it on here, obviously.